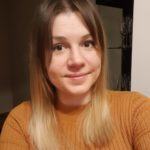 The second Weekly Winner in the Red Zone is…
Malgorzata is a neuroscientist, working on the brain and everything connected to neurons. She's currently researching how Multiple Sclerosis starts🧠
Who do you think should win?
Look through all the scientists' profiles, use Ask to send them your questions, and Vote, for your favourite person to be next weeks winner!
You get a new vote every week. The scientist with the most votes at the end of the Red Zone wins a £500 prize for more science outreach activities. So choose wisely!