Profile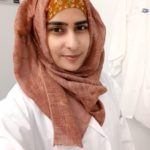 Ayesha Sharif
My CV
Education:

NUI Galway

Qualifications:

M.Phil. BS (Hons) Physics

Work History:

Punjab Groups of Colleges, Lahore, Pakistan

Current Job:

PhD student at NUI Galway
Read more

I am a Pakistani girl who travelled first time in her life far from her family for PhD. I am living in Galway and I love being here. I am a huge fan of nature and the beautiful blue sky and greenery always makes me happy. I like capturing beautiful scenes of nature and this is amazing.

I made some bird friends in my backyard during lockdown. So, when I open my window, they fly towards me and make noises. So, we share food at breakfast time (they eat bird food and I always have bread 😉).

Music is my favourite thing to do. I listen all categories, depending on mood. At weekends, I go for a walk with Burhan (may friend's son) and we are always in search of snails, mushrooms, and spiders, So adventurous! 😊.

In summer, my friends collected seashells for me at beach, I am keeping them save in a glass jar. It is the memory when I was new in Galway. Also, I love to have lunch and tea breaks at river, which is in front of my office at university, since the water is deep so no swimming kids 😉.

Read more

Hi, I am working to fuse very small sized particles (nanoparticles), in the solution or in the form of very thin film on a substrate.  I am using very short pulse laser which delivers energy to the nanoparticles and then it fuses them to form bigger in size. This makes them more electrically conductive. We use these conductive films and patterns which are made through nanoparticle inks printing in several devices specially in sensors. When the conductivity of a material is higher, its sensitivity becomes more effective and accurate. We can do this for several materials in form of nanoparticle inks.

My Interview

How would you describe yourself in 3 words?

Dedicated, hardworking and freindly

What did you want to be after you left school?

I wanted to be an engineer. :D

Were you ever in trouble at school?

No, as I had very good friends and teachers. So it was real fun. :)

Who is your favourite singer or band?

Backstreet boys

What's your favourite food?

Traditional Pakistani food

What is the most fun thing you've done?

So many things, specially the time spent with my brother at home, doing fun and laughters. Trips and visiting new places.

If you had 3 wishes for yourself what would they be? - be honest!

I wish my parents never get old; this is my wish. Rest I don't have any specific because I am blessed with everything😊.
---
---
---