Profile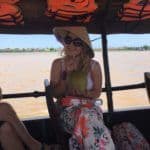 Ciara Tierney
My CV
Education:

St. Dominic's College, Cabra, Dublin (Leaving cert), Maynooth University (Undergraduate degree), Maynooth University (Ph.D)

Qualifications:

I have a B.Sc. in general science and a Ph.D. in clinical proteomics

Work History:

I worked as a biomedical scientist for 2 years in Chase Farm Hospital, London.

Current Job:

Post doctoral researcher in NUI Galway.
About Me

I'm Ciara, I am 28 and I live in Galway with my boyfriend. I love to have fun and go on big adventures.

Read more

I am originally from Dublin but I live in Galway now. I lived in London for two years and I worked as a biomedical scientist while I was there. I like to cook, to go to the cinema and to go shopping. I love to travel and my dream holiday would be to go on safari in Tanzania or Kenya because my favourite animals are lions. I support Bayern Munich football club. I watch lots of football, formula one, rugby and American football. I don't have any pets yet but I am hoping to adopt a dog soon.

Read more

In my lab we work with blood clots. Blood clots form when there is a blockage in a vein or artery in a person's body. The pathway is not big enough for the blood to flow through and the blood starts to build up and get stuck, kind of like if too many people try to get through a small doorway at once. This blood then starts to stick together and forms a clump of blood cells (a blood clot). When this happens in a passage in the body, blood cannot flow through and it then can't get to the person's brain. This then causes a person to have what is known as a stroke. A stroke can can be healed as simply as removing the clot and the person goes back to normal or it can cause damage for the rest of that persons life. Sometimes doctors see things like people not being able to move their arms or legs, or both, on the left side of their body after a stroke. The reason we study these clots is to see if we can recognise something in a person's body while the clot is forming that can help doctors start to give medicine to the person earlier to clear their blockage, so they don't actually have a stroke. We are also trying to help doctors make better machines to take blood clots away.

My Typical Day

I wake up at 7am in the morning and arrive at the laboratory at 8am. I turn on all of the machines that I have to use throughout the day and get started. I usually cut blood clots and stain them, which gives very pretty images of different parts of the blood. Each part of the blood dyes a different colour. These colours help decide what happened to the patient.

Read more

Generally I wake up at 7, get ready for work, have my first all important coffee of the day and get to the lab for 8am. I start my work day earlier than the other scientists in the lab so my first job is to make sure that all of the machines are turned on and are ready to use. My main task for the day is never the same and some days can be unpredictable. The doctors that we work with send us blood clots from patients usually twice a week. Firstly we weigh and measure the size of the clots before we get them ready to be dyed. This involves putting the clots in 100% alcohol over night to draw the water out of them and then putting them into a special machine called a tissue processor. This machine puts the blood clot into lots of different chemicals. We are then able to cut it into tiny pieces, put those pieces onto slide (using a machine called a microtome) and dye or stain the tissue. We then examine the tissue under a microscope and we can make decisions as to what we are seeing by 1) the colours we see and 2) the amount of each colour we see. After this process is finished we use lots of maths to figure out things about our clots too. I usually leave the lab at about 5pm each evening, although things don't always go to plan and sometimes I have to stay much later.

My Interview

How would you describe yourself in 3 words?

Enthusiastic, fun and honest.

What did you want to be after you left school?

A pathologist so a doctor who finds out why someone has died by examining their body

Were you ever in trouble at school?

Yes, always

Who is your favourite singer or band?

Prince

What's your favourite food?

My mam's roast chicken dinner

What is the most fun thing you've done?

Running away for a month to travel around Vietnam

Work photos:
---
---
---