Profile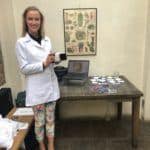 Melissa Walsh
Your Scientist ID:
Education:

School; St. Joseph's College Lucan . University; Trinity College Dublin

Qualifications:

Bachelors Degree, Physics and Chemistry of Advanced Materials from Trinity College Dublin. Diploma in BioPharmaChem from Dublin Institute of Technology; Diploma in Dermatocosmetic Science from Vrije University Belgium

Work History:

Oriflame Research & Development, Senior Photobiology Scientist in Clinical Cosmetic Claims Testing and Development

Current Job:

Training Programme Manager, Tyndall National Institute Cork

Employer:

Currently I am working at the Irish Photonic Integration Centre(IPIC) at Tyndall National Institute in Cork.
My Work: I currently help in training PhD and Post Doctoral researchers in Photonics. Photonics research has many different applications from designing probes for surgery, to self driving cars , to wire networks for wifi communications.

Read more

Photonics research  has many different applications from developing AR/VR that needs higher resolution and energy efficient displays, autonomous vehicles that require photonics sensors to 'see', guided surgical instruments that utilise light to identify cancerous versus non-cancerous tissue, to communication networks to bring wifi to your homes.

My work involves organising training and development opportunities for these researchers to grow and develop into world class research leaders in the Photonics world.

Sometimes they want to stay in the academic research environment and sometimes the go out to industry, so when undergoing their training it is important that aside from pure research 'lab skills' that they develop skills like public speaking, how to commercialise their inventions, project management and how to engage with the public and discuss their research in a easy to understand way.

My Interview

How would you describe yourself in 3 words?

Inquisitive, conscientious and smiley :)

What's your favourite food?

Curry ( of any kind)

What is the most fun thing you've done?

Bungee Jumping in South Africa

What did you want to be after you left school?

Scientist

Were you ever in trouble at school?

Nope

What was your favourite subject at school?

Physics

What's the best thing you've done as a scientist?

Travelled to China to complete a research study on the signs of aging on Chinese women

What or who inspired you to become a scientist?

School science teacher

If you weren't a scientist, what would you be?

A physics teacher travelling the world

If you had 3 wishes for yourself what would they be? - be honest!

1. For Covid to go away so I can travel to see my family and friends 2.Win the lotto so I could take a year off work and travel the world carefree 3.Continue to always have a job that I love to do ( so it's not a chore to get up in the mornings and go out to it)

Tell us a joke.

A Photon checks into a hotel and is asked if he needs any help with his luggage ? No he says, I'm travelling Light

My profile link:
https://red20.imascientist.ie/profile/melissawalsh/
---
---
---