Profile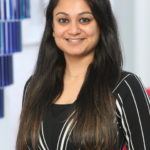 Rajannya Sen
I work with camera and am trying to use the camera to capture images that tells us about the amount of oxygen in the object.
About Me

I am a jovial and talkative person. Love to spend time with my friends and family.

Read more

I am from India and am doing my PhD at UCC.  I live here in Cork with my husband who is also a researcher at Tyndall. I love to spend time with my friends and family. I also love to dance and am a professional Indian Classical Dancer.

Read more

The designed camera is single photon sensitive. It means that it can take the image of a single photon of light. The imager will be tuned to operate in phosphorescent and fluorescent modes. That is, it will capture only a particular wavelength of light from the tissues that will help to detect the oxygen, pH, temperature, etc. parameters .
---
---
---